YES Implementation Agreement signed on 3 June 2021
8 June 2021
Mr Chan Chun Sing, Minister for Education, Singapore posted on his Facebook on 6 June 2021: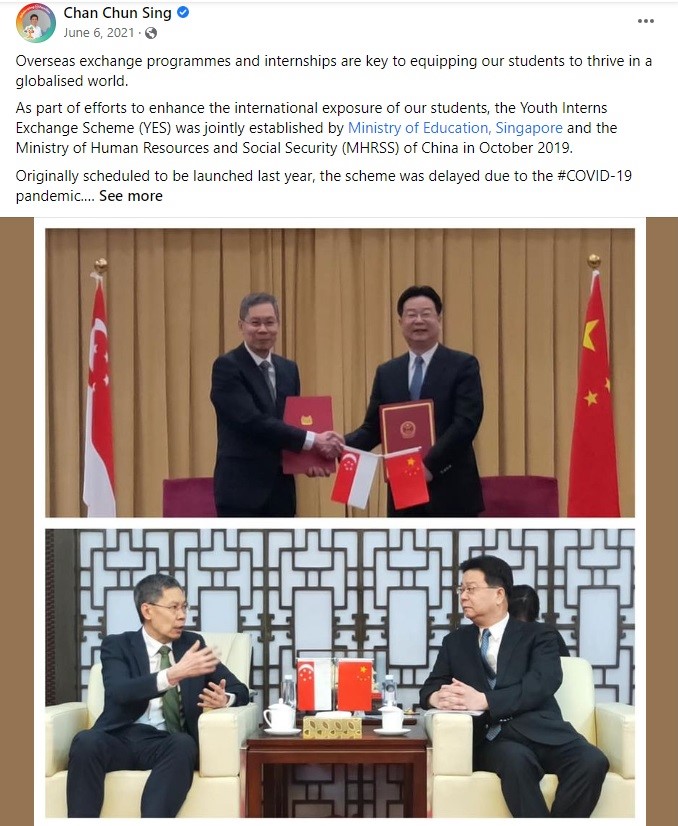 As part of efforts to enhance the international exposure of our students, the Youth Interns Exchange Scheme (YES) was jointly established by Ministry of Education, Singapore and the Ministry of Human Resources and Social Security (MHRSS) of China in October 2019.

Originally scheduled to be launched last year, the scheme was delayed due to the COVID-19 pandemic. But we remain undeterred and the Implementation Agreement was signed by Singapore's Ambassador to China His Excellency Lui Tuck Yew on MOE's behalf and MHRSS' Vice Minister Mr You Jun this week in Beijing.

YES will help about 500 full-time students and recent graduates from polytechnics and Autonomous Universities from Singapore and the equivalent from China, to participate in overseas internships in our two countries.

Our students can look forward to updates on internship opportunities in China on the YES website (yes.org.sg) when travel resumes."
Source: https://www.facebook.com/ChanChunSing.SG/photos/a.908713829180601/4347323655319584/